The Best Things to Do in Vietnam
Vietnam, a land of captivating contrasts and rich cultural heritage, offers an array of experiences that cater to every traveler's interests. From exploring historical landmarks to immersing yourself in natural beauty and savoring the local cuisine, Vietnam is a treasure trove of unforgettable moments. This travel guide showcases the best things to do in Vietnam, ensuring a remarkable and fulfilling journey through this enchanting nation.
Vietnam Travel Map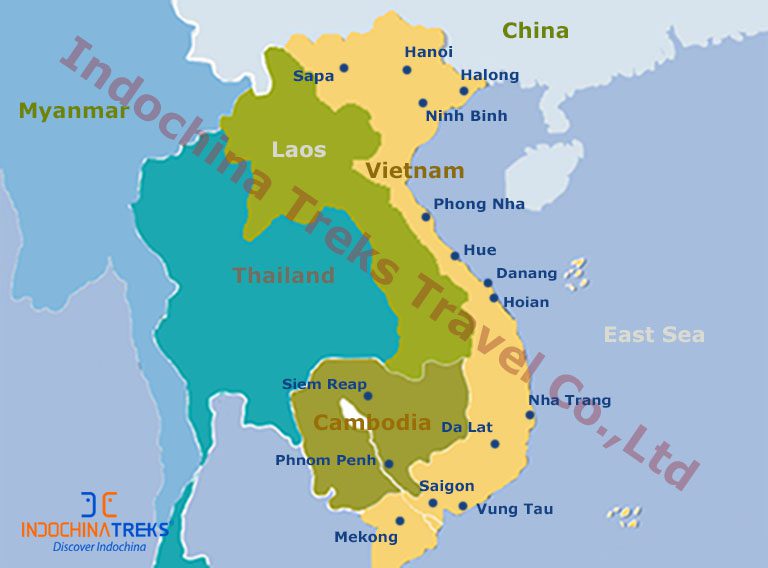 Vietnam Travel map
1. Discover the Timeless Charms of Hanoi:
Begin your adventure in Hanoi, where history and modernity intertwine. Explore the maze-like streets of the Old Quarter, sample flavorful street food, and admire the elegant French colonial architecture. Don't miss the chance to visit the serene Hoan Kiem Lake, an oasis in the midst of the city's energy. Dive into Vietnam's history at the Ho Chi Minh Mausoleum and delve into the country's intellectual past at the Temple of Literature.
Hanoi
2. Cruise Through the Ethereal Beauty of Halong Bay:
Embark on a Halong Bay cruise, a journey into a dreamlike seascape. The limestone karsts that rise dramatically from the emerald waters create an ethereal beauty that's hard to match. Explore hidden caves, marvel at the striking Sung Sot Cave, and relish the tranquility of the surroundings. As the sun sets, watch as the bay is painted in golden hues, creating a mesmerizing and unforgettable vista.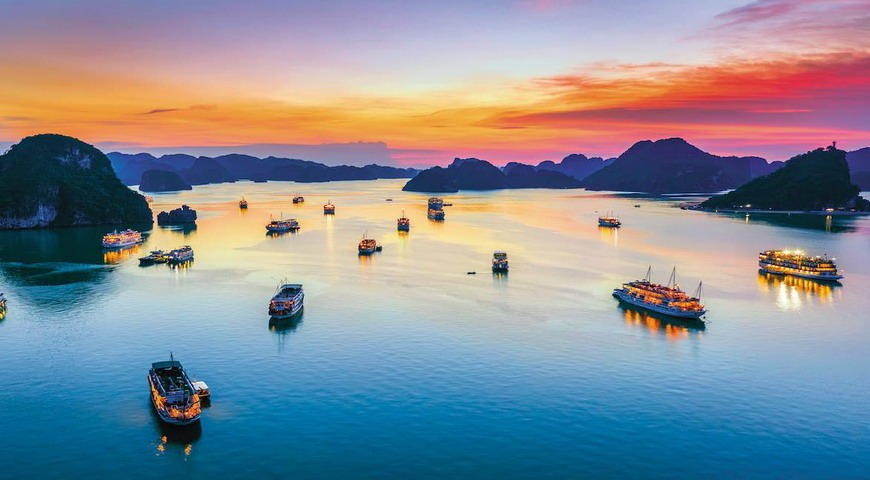 3. Trek Amidst Sapa's Majestic Landscapes:
Escape to Sapa, a serene mountain town embraced by misty landscapes. Trek through terraced rice fields, interact with local ethnic communities, and be rewarded with awe-inspiring views of the Hoang Lien Son Mountains. Engage in cultural exchanges with hill tribes and experience their way of life.
Sapa – Vietnam
4. Discover Ninh Binh's Natural Wonders:
Replace My Son Tower with Ninh Binh, a lesser-known gem that captivates with its raw beauty. Sail through Trang An Grottoes, a UNESCO World Heritage Site, to explore limestone caves and emerald waters while being surrounded by breathtaking landscapes. Climb the steep steps of Hang Mua for panoramic views that sweep across the picturesque countryside.
Ninh Binh
5. Immerse Yourself in Hoi An's Ancient Atmosphere:
Hoi An's ancient town is a UNESCO World Heritage Site and a treasure trove of history and culture. Stroll through streets adorned with colorful lanterns, admire the mix of architectural influences, and shop for tailor-made clothing. Explore the Japanese Covered Bridge, a symbol of the town, and embrace the riverside charm with a leisurely boat ride on the Thu Bon River.
Hoian Ancient Town
6. Traverse Hue's Imperial Legacy:
Unveil Vietnam's imperial legacy in Hue, the ancient capital. The Imperial City, with its palaces, gates, and temples, offers a glimpse into the country's royal past. Cruise along the Perfume River to visit the ornate Thien Mu Pagoda and explore the tombs of emperors, such as the Tu Duc Tomb.
Hue
7. Admire the Golden Bridge in Danang:
The Golden Bridge, held aloft by gigantic stone hands, is an architectural marvel that offers more than just breathtaking vistas of the surrounding hills. The bridge itself is a stunning work of art, enhancing the allure of Danang. This modern addition perfectly complements the city's rich history and natural beauty.
Golden Hand Bridge – Danang
8. Experience the Dynamic Energy of Ho Chi Minh City:
Ho Chi Minh City, the economic powerhouse of Vietnam, pulsates with life and history. Visit the War Remnants Museum to gain insights into the Vietnam War, explore the iconic Notre-Dame Cathedral, and immerse yourself in the bustling atmosphere of the Ben Thanh Market. The Cu Chi Tunnels, located just outside the city, offer a sobering look into the wartime history of Vietnam.
Ho Chi Minh City
9. Navigate the Mekong Delta's Waterworld:
Experience the unique charm of the Mekong Delta by traversing its intricate waterways. Engage in the local rhythm as you visit vibrant floating markets, explore fruit orchards, and interact with artisans. The delta's lush landscapes and traditional way of life create a captivating experience that's both soothing and culturally enriching.
Mekong Delta
10. Relax on Phu Quoc's Pristine Beaches:
Conclude your journey on Phu Quoc Island, a tropical paradise in the Gulf of Thailand. Bask on its white-sand beaches, explore coral reefs teeming with marine life, and indulge in water activities like snorkeling and kayaking. Phu Quoc offers a perfect blend of relaxation and exploration.
Phu Quoc Island
Vietnam's diversity promises an experience unlike any other. This travel guide unveils the 10 best things to do in Vietnam, ensuring that your journey is not just a tour, but a profound adventure. From cultural explorations to natural wonders, each destination unveils a new facet of Vietnam's allure. This tapestry of memories will stay with you long after your exploration ends, reminding you of the captivating beauty and rich culture that define this remarkable nation.