Tam Coc – Bich Dong
Tam Coc is well – known for its poetic, peaceful but equally breathtaking scenes that easily captivate people's hearts. Tam Coc has also some famous names such as "Ha Long Bay on land" or "Nam Thiên Đệ Nhị Động" (the second most beautiful cave in VietNam).
Tam Coc from above
Located in In Ninh Binh, Tam Coc means "Three caves", including Ca cave, Hai cave, and Ba cave. All three caves are formed by the Ngo Dong River pierced through the mountains. Tam Coc is also the first yacht to be operated in Tam Coc – Bich Dong.
The First cave call Hang Ca is 127 m long, through a large mountain, the cave is over 20m wide. There are many stalactites hanging down with many kinds of images in the cave.
The second cave call Hang Hai. It's far from Hang Ca nearly 1 km, 60 m long, the ceiling has many stalactites hanging down very beautiful. It depends on imagination.
The third cave or call Hang Ba, It's close to Hang Hai, 50 m long, cave ceiling as a rock art. Also, it's lower than the other two caves.
Boat Trip in Tam Coc
To visit Tam Coc, you take a boat from the boat central station. The local people will lead you by rowing boat on Ngo Dong river. It's wonderful to view along boat trip with mountain and rice paddies. The timing for Ninh Binh Tam Coc tour boat trip it takes about 2 hours.
The scenery of Tam Coc, especially on the two sides of the Ngo Dong River, can be changed according to the rice season (green rice, yellow rice or silver water in the field). However, the most beautiful is still in the season of nine rice, when along the banks of the river Ngu Dong color blaze, blended with the green of grass to create a painting of aquatic animals. Not only can you take a boat ride on the Dong Ngo River, you can also explore the Mua Cave. Where there is a panoramic view of Tam Coc, the bike ride around the rice fields…
If you want to see the golden color of ripe-rice fields, you should visit between lately May to early June. At that time, the scenery of rice field is so wonderful with lively colors. Besides, the best travel time is from January to March of the lunar calendar. Since the weather is good for sitting on a boat, visiting Tam Coc and enjoying the spring breeze. There are also many festivals taking place here so that you can combine with travelling or praying in New Year's Eve.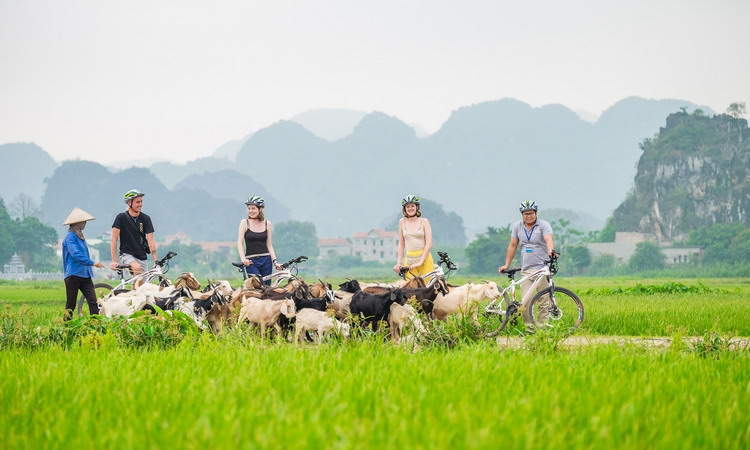 Biking in Tam Coc
The second interesting place is Bich Dong – a famous picturesque cave, named by Nguyen Nghiem Minister (father of talented Vietnamese poet – Nguyen Du) in 1773. Bich Dong consists of a "dry" cave lying on the middle of the mountain (there is Bich Dong Pagoda – an ancient temple attached to a rocky mountain); and a cave, in which water stabbing through the mountain (called Xuyen Thuy Dong).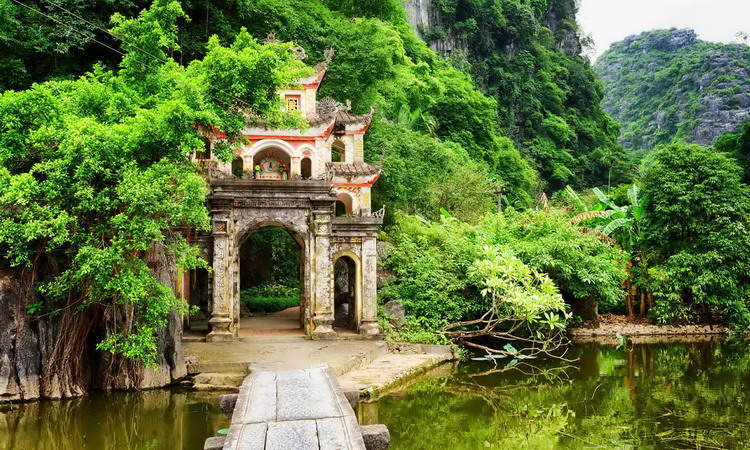 Bich Dong Pagoda