The Best Time to Visit Viet Nam and Cambodia
Travelling in Vietnam and Cambodia is a fascinating and enriching experience that offers a blend of ancient history, vibrant cultures, breathtaking landscapes, and warm hospitality. These neighboring countries in Southeast Asia are filled with diverse attractions that cater to a wide range of interests and preferences. Let's explore when is the best time to visit Viet Nam and Cambodia
Halong Bay Vietnam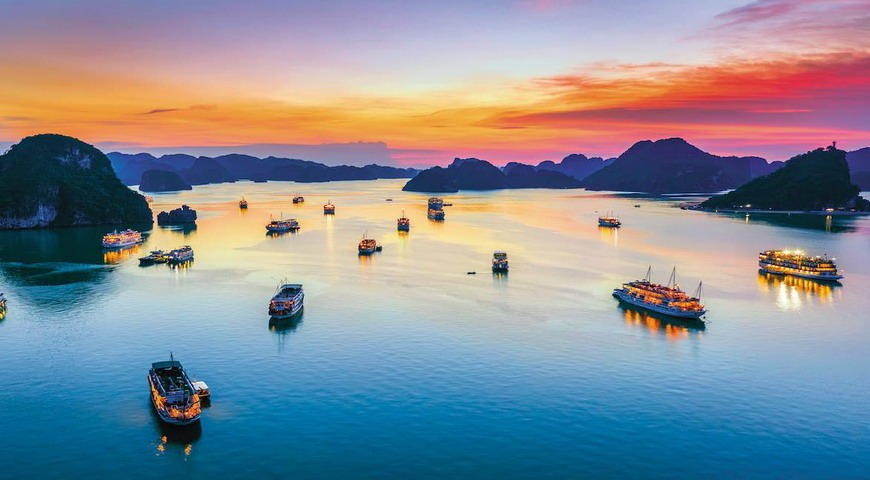 The Best time to visit Vietnam
Vietnam experiences four distinct seasons, each offering its own charm and unique experiences across different regions of the country. Let's explore the characteristics of each season:
Spring (February to April):
Spring is a delightful time to visit Vietnam, as the weather is mild and the country comes alive with blossoms and festivities. The north experiences a cooler climate, with occasional drizzles and blooming cherry blossoms, particularly in Hanoi and the mountainous regions like Sapa and Ninh Binh. This season marks the celebration of the Tet Festival, or the Lunar New Year, which is the most significant traditional holiday in Vietnam. During this time, the streets are adorned with vibrant decorations, and families come together to enjoy feasts and cultural performances.
In the central and southern regions, spring is characterized by warm temperatures and lower humidity. Cities like Hue and Hoi An showcase their historical charm amidst colorful flowers, making it an ideal time to explore their ancient architecture and UNESCO World Heritage Sites.
Summer (May to August):
Summer in Vietnam can be divided into two distinct regions. In the north, temperatures rise, and occasional rain showers bring relief from the heat. This is the perfect season to explore the magnificent Halong Bay, with its limestone karsts and emerald waters. Adventurers can also embark on treks to the northern mountain regions and experience the unique cultures of ethnic minority groups.
In contrast, the central and southern parts of Vietnam experience a hotter and more humid climate during this time. The coastal cities such as Da Nang, Nha Trang, and Phan Thiet attract tourists with their beautiful beaches and water activities. Snorkeling, diving, and water sports become popular pastimes in the south.
Autumn (September to November):
Autumn is considered one of the best times to visit Vietnam. The weather is milder and more pleasant, with reduced rainfall and humidity. The north experiences beautiful golden hues in the terraced rice fields of Sapa and Mu Cang Chai during the harvest season. This creates a picturesque and serene landscape, perfect for trekking and photography.
In central Vietnam, cities like Da Nang, Hue, and Hoi An bask in comfortable temperatures, making sightseeing and exploration enjoyable. This is an excellent time to immerse yourself in Vietnam's rich history, explore ancient ruins, and indulge in delicious local cuisine.
Winter (December to January):
Winter in Vietnam varies significantly between the north and the south. In the north, temperatures drop considerably, and it can get quite chilly, especially in Hanoi and the mountainous areas. Some regions, like Sapa, even experience occasional snowfall, attracting visitors seeking a unique winter experience in Southeast Asia.
Conversely, the south remains pleasantly warm and dry during the winter season. Cities like Ho Chi Minh City and the Mekong Delta offer a respite from the cold and provide an excellent opportunity to explore the bustling urban life and floating markets.
Vietnam's four seasons offer an array of experiences for travelers throughout the year. Whether you prefer the blooming flowers and cultural festivities of spring, the sun-drenched beaches and adventure of summer, the tranquil landscapes and pleasant weather of autumn, or the diverse contrasts of winter, Vietnam has something to captivate every visitor. Each season provides a different lens through which to discover the country's stunning beauty, rich culture, and warm hospitality, making Vietnam an enticing destination regardless of the time of year.
The Best Time to Visit Cambodia
The best time to visit Cambodia largely depends on your preferences and the type of experience you seek. Cambodia has a tropical climate, characterized by two distinct seasons: the dry season and the wet season. Each season offers its own advantages, and understanding the weather patterns can help you plan your visit accordingly.
Dry Season (November to April):
The dry season is considered the best time to visit Cambodia, as it offers pleasant weather, lower humidity, and minimal rainfall. It is divided into two main periods:
November to February: During these months, the weather is cooler, making it an ideal time for sightseeing and exploring Cambodia's famous historical sites, such as Angkor Wat and other temples in Siem Reap. The days are sunny and comfortable, while the evenings may be cooler, especially in northern regions.
March to April: Towards the end of the dry season, temperatures start to rise, and it can get hot, particularly in April. Despite the heat, this is still a popular time to visit Cambodia due to clear skies and excellent conditions for beach activities in coastal areas like Sihanoukville and Koh Rong.
Angkor Wat - Cambodia
Wet Season (May to October):
The wet season in Cambodia is characterized by regular rainfall and higher humidity. While the weather is generally warmer, it also brings lush greenery, fewer crowds, and lower travel costs. The wet season can be further divided into two phases:
May to September: During these months, Cambodia experiences intermittent rains, typically in the form of short, heavy showers in the afternoon or evening. The countryside becomes vibrant and green, and the Angkor temples are surrounded by lush foliage, offering a different perspective for photography enthusiasts. This season can also be rewarding for birdwatchers, as migratory birds visit the region.
October: Towards the end of the wet season, the rains start to subside, and the weather gradually becomes drier. October is a transitional month, and you may experience occasional showers, but it can still be a good time to visit Cambodia, especially for budget travelers seeking lower prices and fewer tourists.
The best time to visit Cambodia depends on your personal preferences and interests. If you prefer cooler and drier weather with optimal conditions for exploring historical sites, the dry season from November to February is recommended. On the other hand, if you enjoy lush landscapes, fewer crowds, and lower costs, the wet season from May to October can be an attractive option.
Ultimately, Cambodia has something to offer year-round, and each season brings its own unique experiences and charm. Whatever time you choose to visit, Cambodia's rich history, stunning temples, warm hospitality, and beautiful landscapes are sure to leave you with unforgettable memories.