Ho Chi Minh 'racket coffee' in tiny ceramic pots

A cafe in Ho Chi Minh's District 6 offers tasty coffee in ceramic pots that can fit into your palm, just enough to serve one customer.
At Ba Lu Cafe, owned by Trung Nghia, 62, customers enjoy coffee served in a tiny ceramic pot. The owner's daughter came up with the idea 10 months ago, based on the Chinese traditional medicine decoction.
Nghia's shop and the well-known Ba Lu Cafe at 193 Phung Hung Street, District 5 share the same coffee roasting secret since both owners are relatives. They are people of Chinese origin.
The 'racket coffee' here is typically hand-roasted with salt, butter and rice wine, then brewed and filtered with strainers that resemble small butterfly nets made of cotton or muslin. Both owners confirmed their coffee is "clean, with no chemicals, nor flavoring."
Tiny pots are left to settle for 10 minutes before each single serving. The procedure boosts both taste and fragrance by allowing the coffee powder to spread evenly.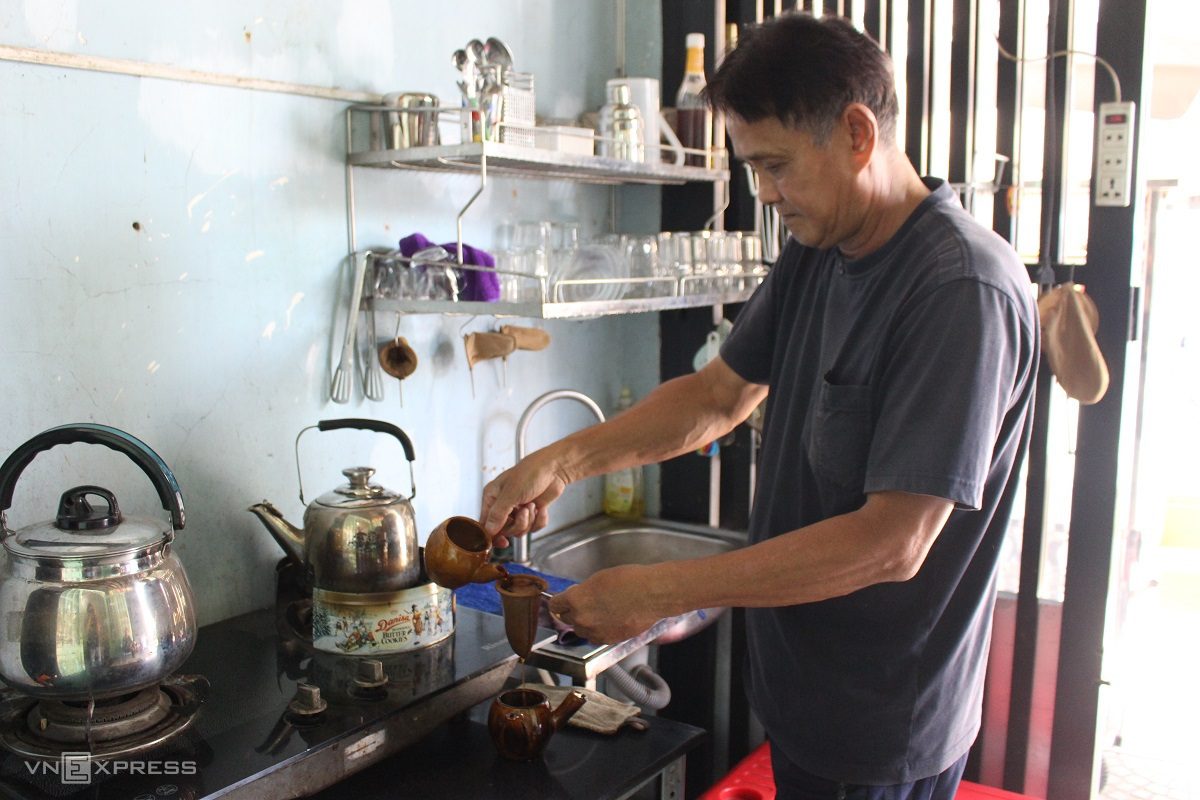 Cafe owner Trung Nghia uses two pots to make coffee for customers, but only serves from one. Photo by VnExpress/Huynh Nhi.
"Making coffee this way requires more care because the pots are tiny. It is difficult to make coffee, but customers love it, especially the young," Nghia said.
The ceramic pots used by the coffee shop are one fifth of normal medicinal equivalents and are specially ordered from select craftsmen in Binh Duong Province.
At first, producers were reluctant to help Nghia, who now receives about 50 tiny pots each week to serve coffee and sell.
Beside a VND20,000 ($0.87) pot of coffee, iced black tea with sugar is also available. Photo by VnExpress/Huynh Nhi.
Learning about the cafe from a social media site on Chinese culture, Thanh Dat from Tan Phu District decided to give it a try.
"In the past, my family made coffee with ceramic pots, but now switched to using filters. Looking at the cute little coffee pot reminds me of my childhood, so I often go to the shop. The atmosphere here is also peaceful, there's no hustle," Dat said.
Minh Trung from Da Nang City is also impressed with 'racket coffee', and values its quality. "I think the quality of the drink is the most important thing. This new coffee making method is not seen in my hometown Da Nang. So I have bought some of these tiny pots to make coffee at home."
At the cafe, located at 111B Van Than Street, Ward 8, customers are instructed on how to roast and make traditional Chinese 'racket coffee', with Nghia hopeful the trend would soon catch on.
The little coffee pots at Ba Lu Cafe at 111B Van Than Street, Ward 8, District 6, Ho Chi Minh. Photo by VnExpress/Huynh Nhi.
Source: E.vnexpress.net