Bustling Hanoi Capital
Hanoi is Vietnam's capital city. Located by the banks of the Red River, it's a city in Northern Vietnam that's the second largest in the country by population. It served as the capital of French Indochina from 1902-1954, before becoming the capital of a reunified Vietnam after the North's victory in the Vietnam War.
Hanoi is an old city. It celebrated its millennial anniversary in 2010 though it's said to be much older than that, having been inhabited since at least 3,000 BC. Vestiges of Chinese and French colonial influence can still be seen throughout the city. Apart from being one of the most popular tourist destinations in Vietnam, it's often used as a base for other points of interest in the North like Ha Long Bay, Sapa, and Ninh Binh Province.
Driving along the 4D National Highway is a unique experience: high limestone peaks rising up to the sky with vertical slope then coming to peaceful countryside valleys. After passing the green limestone periods, the pass gradually straightened to the south – where there were scenic spots admiring the nearby Mount Fansipan.
Hanoi was eclipsed by Hue – the imperial capital of Vietnam during Nguyen Dynasty (from 1802 to 1945). From 1010 to 1802, Hanoi was considered to be the most important political center of Vietnam. In 1873, the French conquered Hanoi, which made Hanoi into French's colonial administrative center from 1883 to 1945. During the period, the French built a modern administrative city, many churches, public buildings, luxury villas but also destroyed various imperial palaces and citadels, reduced lakes' and canals' sizes, which results in Hanoi as it is today. Similarly to most of French's colonized land in Indochina and Southeast Asia, Japanese empire took control over Hanoi. On September 2nd, 1945, President Ho Chi Minh proclaimed the Democratic Republic of Vietnam at Ba Dinh Square, which involved Hanoi in the most important milestone in Vietnam's history. Afterwards, Hanoi has become Vietnam's capital on January 6th, 1946.
1. History attractions in Hanoi:
Hanoi Old Quarter: For those who visit Hanoi with a genuine desire to have a grasp of the city's culture, Ha Noi Old Quarter is a must-visit spot that you definitely should not miss. Despite rapid development of a developing country's capital, which results in constant changes everyday, Ha Noi Old Quarter remains its ancient beauty but with dynamic lifestyle. Most streets in the Old Quarter was named after each street's original businesses dating back about 1,000 years ago. Isn't it sound like a dream of tradition lovers?
Duong Lam Ancient Village:Different from Hoi An's ancient town or Hanoi Old Quarter's vibrant vibe of urban lifestyle in the earlier centuries, Duong Lam ancient village is more like a rural area, heavily affected by agricultural lifestyle. Retaining the basic characteristics of Vietnamese ancient villages, the village with its unique architecture has welcomed many tourists from all over the world. Covered with banyan trees' generous shades, the village brings about the peaceful atmosphere at its best.
Bat Trang Ceramic Village:If you are looking for an interesting activity that you can actually hand on, then Bat Trang Ceramics Village is the choice for yours. Located only 15km away from Hanoi center, Bat Trang village is a well-known attraction to tourists and locals who love traditional culture and new experience at the same time. You can not only wander around the artists' working place but also try hand-made pottery yourself with their help.
Temple of Literature:Ha noi has numerous pagodas and temples, nit Temple of Literature is one of a kind. Unlike other religious temple, Temple of Literature is considered to be the first University of Vietnam. Nowadays, the temple is not only a historical attraction but also attracts many candidates, students coming to pray for their studying career.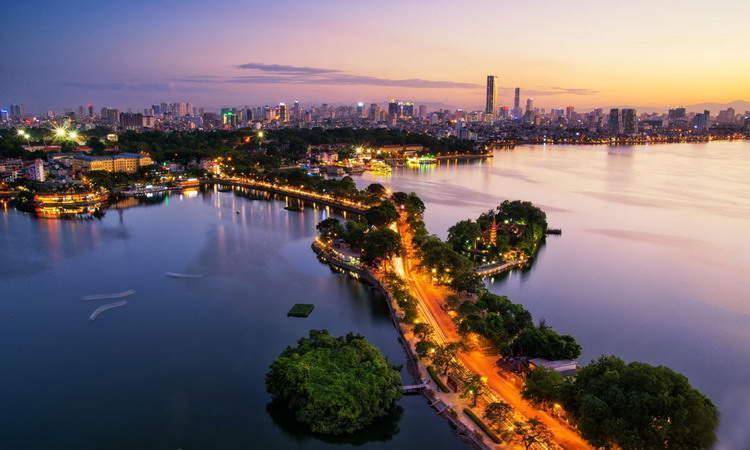 Hanoi
2. Culture:
Lifestyle of Hanoian is a culture beauty and reflected in every word of each person. Hanoi is a city with a long history, also the capital, the center of economy, politics, culture of Vietnam. Therefore Hanoian always have an awareness of elegant lifestyle worthy of the role and its position. The lifestyle of Hanoian or also called Trang An was referred in many poems
Culture of Hanoian also the cultural feature of Vietnamese people is a casual lifestyle and community solidarity. Vietnamese people lives in village community. Each people in the village has the intimate relationship with each other. In the past, they united to work together and against aggressors. Village became an indispensable part of their life. This idea has existed and closed with them until now. also thanks to this lifestyle helped Vietnam expel all invaders whether strong or weak to protect peace in the country.
3. Hanoi Transportation
From the airport, if you haven't booked a transfer through your hotel, you'll need to take a taxi to get to the Old Quarter. Metered taxis in Hanoi are notorious for trying to rip tourists off, so make sure you agree on a price before getting in and don't budge on it when you get to your destination. Alternatively, you can book transportation to your hotel online through various companies. We used Hanoi Transfer Service via a recommendation from a friend since our hotel didn't offer an airport transfer. For our journey back to the airport, we booked a transfer at one of the travel agencies in Hanoi. (This was slightly cheaper than using Hanoi Transfer Service, and less stressful than using a regular taxi.)
Once in the Old Quarter, unless you have mobility issues, you'll have no problem walking everywhere mentioned on this list. If walking isn't an option, you can hop on one of the cyclos (three-wheel bicycle taxis) for shorter journeys, and motorbike or metered taxis for longer journeys. Just be aware of dodgy taxi meters if you go that route.
4. Travelling Tips in Hanoi
When visit Hanoi
The Huc Bridge
Because Hanoi is located in the northern region of Vietnam, it experiences all four seasons. This means winters are cold, summers are hot, and spring and autumn are the most comfortable seasons temperature-wise. Rainy season is from April to October with June, July, and August getting the most rainfall. Generally, if your goal is to enjoy the most comfortable temperatures and the least amount of rainfall, you'll want to visit Hanoi in either March and April or September to November. We visited in mid-October and experienced mostly sunny days with temperatures around what we're used to in Singapore.
Currency Exchange
Vietnamese official currency is Vietnam Dong. There are many Currency Exchange stations in tourists' areas or city centers. You should exchange Vietnam Dong in Vietnam cities for better rates compared to exchanging aboard the country.
Food safety
If you get sick from eating in Hanoi (or anywhere for that matter), it's more likely to be due to eating foods you're not accustomed to rather than a case of food poisoning or parasites. Regardless, there are obvious steps you can take to prevent the latter including avoiding tap water or uncooked things that have been washed in tap water, such as salad, and never eating anything that looks like it's been sitting out for awhile. Generally, if you eat from busy places and order a hot meal, you should be good to go.