Vietnam International Airports
Number of Vietnam International Airports increasing in recent years provide more option of the high demand of traveling that equal to the developing of its tourism and economy. Only in 2019, the number of foreign visitors to Vietnam was more than 18 million. The 2 mains International airports in Hanoi and HCM City was running over its capacity. In the near future, Vietnam government plans to extend the airport in Hanoi and building one more new International airport in HCM City.
1. 10 international airports in Vietnam
Noi Bai International Airport (Hanoi)
Tan Son Nhat International Airport (Ho Chi Minh City)
Can Tho International Airport (Cần Thơ)
Da Nang International Airport (Da Nang)
Cat Bi International Airport (Hai Phong)
Phu Bai International Airport (Huế)
Cam Ranh International Airport (Nha Trang)
Phu Quoc International Airport (Phú Quốc)
Van Don International Airport (Quảng Ninh)
Vinh International Airport (Vinh)
However, there are only seven of them serving international flights by now including Tan Son Nhat (Ho Chi Minh city), Noi Bai (Hanoi city), Danang (Danang city), Cam Ranh (Nha Trang city), Phu Quoc ( Phu Quoc Island), Cat Bi and Van Don airport and the others still deal with domestic routes, managing to be international hubs in the near future.
2. Details of  7 largest airports in Vietnam.
2.1. Noi Bai International Airport
Noi Bai International Airport is the main gateway to any Northern destinations you wish to visit such as Hanoi, Halong Bay, Sapa, Mai Chau, etc. It was established in 1977 and have two main passenger terminals (T1 for domestic flights and T2 for international flights) and a station for VIP guests. The International Terminal (T2) is 139.216m2 with capacity of 15-million passengers per year. Located in Soc Son District, it is about 35 km from the center of Hanoi capital. From Noi Bai Airport, you can reach almost all domestic airports depending on flight schedules.
2.2. Da Nang International Airport
Da Nang International Airport sits in Hai Chau District, Da Nang city, just 3 km west of city centre. This one is the 3rd largest airport in Vietnam, after the first position of Tan Son Nhat Airport and the second position of Noi Bai Airport. Similar to Noi Bai Aiport, it has two terminals: the domestic passenger station (T1 station), the international passenger station (T2 station) and a VIP station. The arrivals hall of domestic terminal has a bunch of major resorts lounges, as well as shops and ATMs just outside the exit. The international arrival visa desk is less busy than those in Hanoi and Ho Chi Minh City, but there is no ATM in the immigration area so cash in USD or VND is highly recommended for international guests.
2.3. Cam Ranh International Airport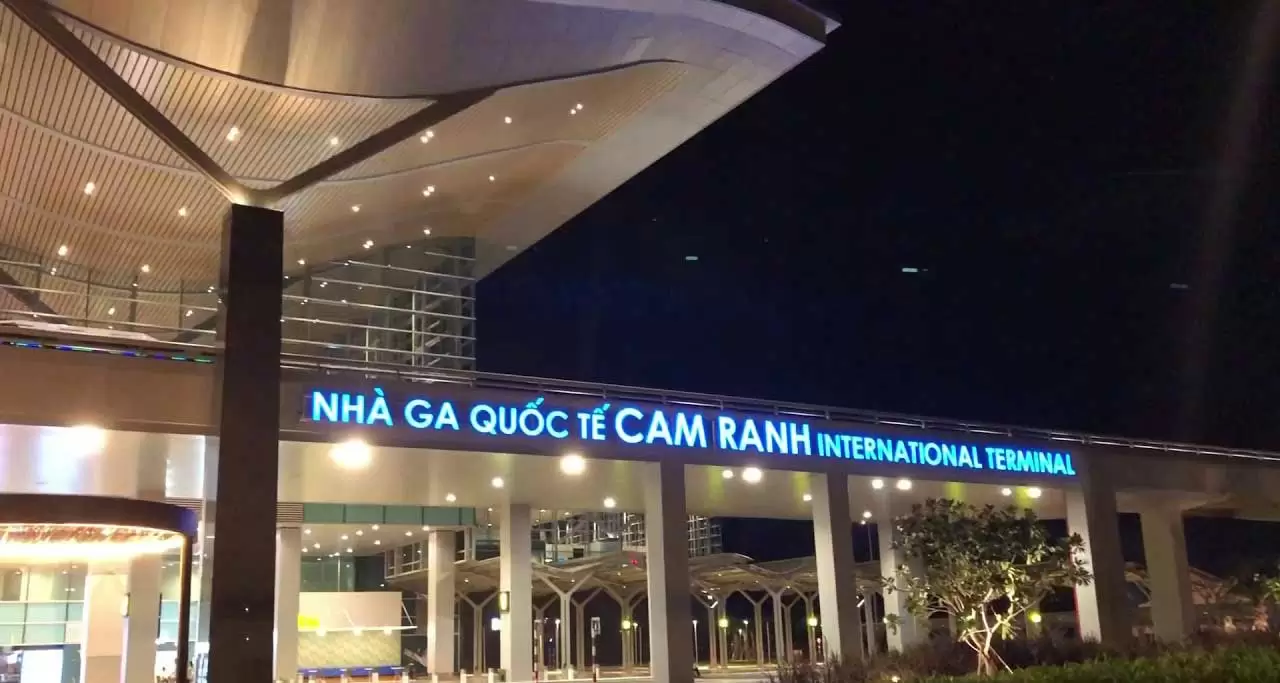 Cam Ranh International Airport situated in Cam Ranh Ward, Khanh Hoa city. Arriving this airport, visitors often expect beach holiday in coastal city Nha Trang. Reaching out the airport, you will be amazed with combination of traditional and modern design. The airport was established and utilized in 2009. It can handle a maximum capacity of 800 passengers per hour at rush hours.
2.4. Tan Son Nhat International Airport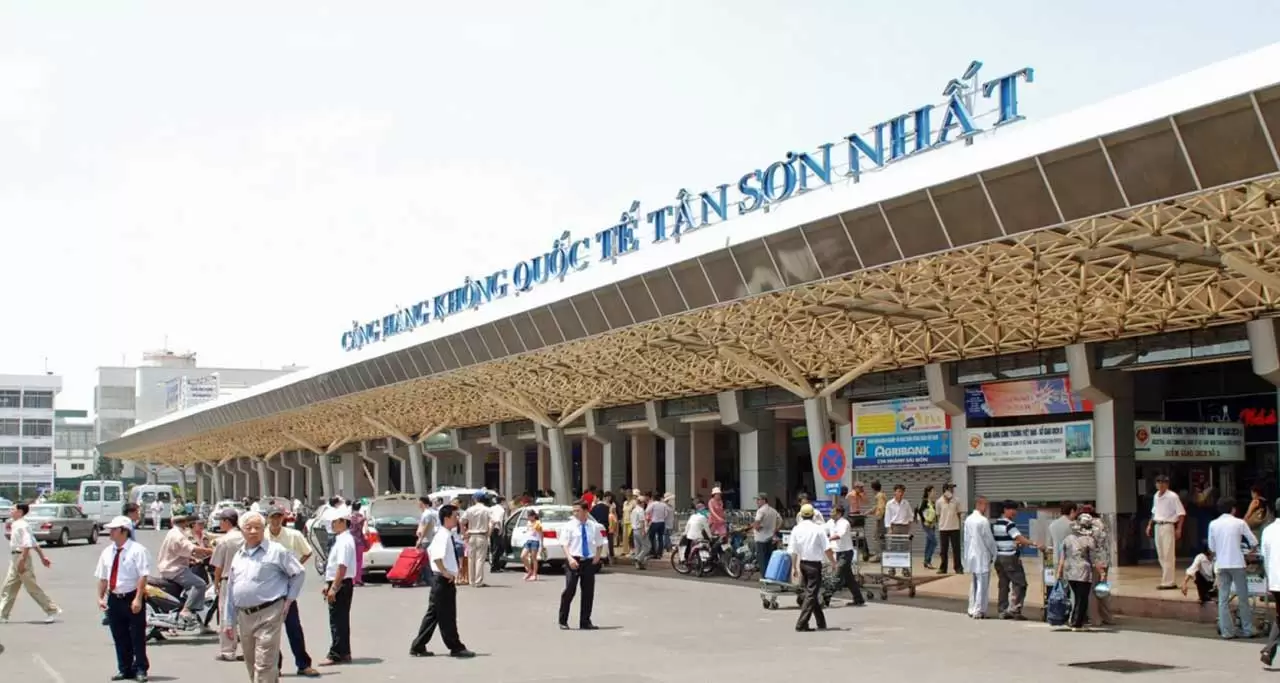 Remaining the the biggest airport in Vietnam, Tan Son Nhat Airport stays 7 km far away from the hustle metropolis city – Ho Chi Minh city. It covers an area of 850 hectares and ranks the very first position in terms of station capacity.
Tan Son Nhat Airport has 2 stations: the domestic station and the international station connected by a 500m covered walkway. Tan Son Nhat International Airport operates from two terminal buildings – Domestic Terminal 1 and International Terminal 2. The international terminal opened in September 2007 serving up to 10 million passengers per year. It is a modern building with 80 check-in counters, 18 exit procedures, 20 entry procedures; 8 customs detectors, lots of duty-free shops, sitting lounges, coffee shops and local restaurants. There's no doubt that thanks to Tan Son Nhat Airport, most of visitor can head to Southern Vietnam.
2.5. Phu Quoc International Airport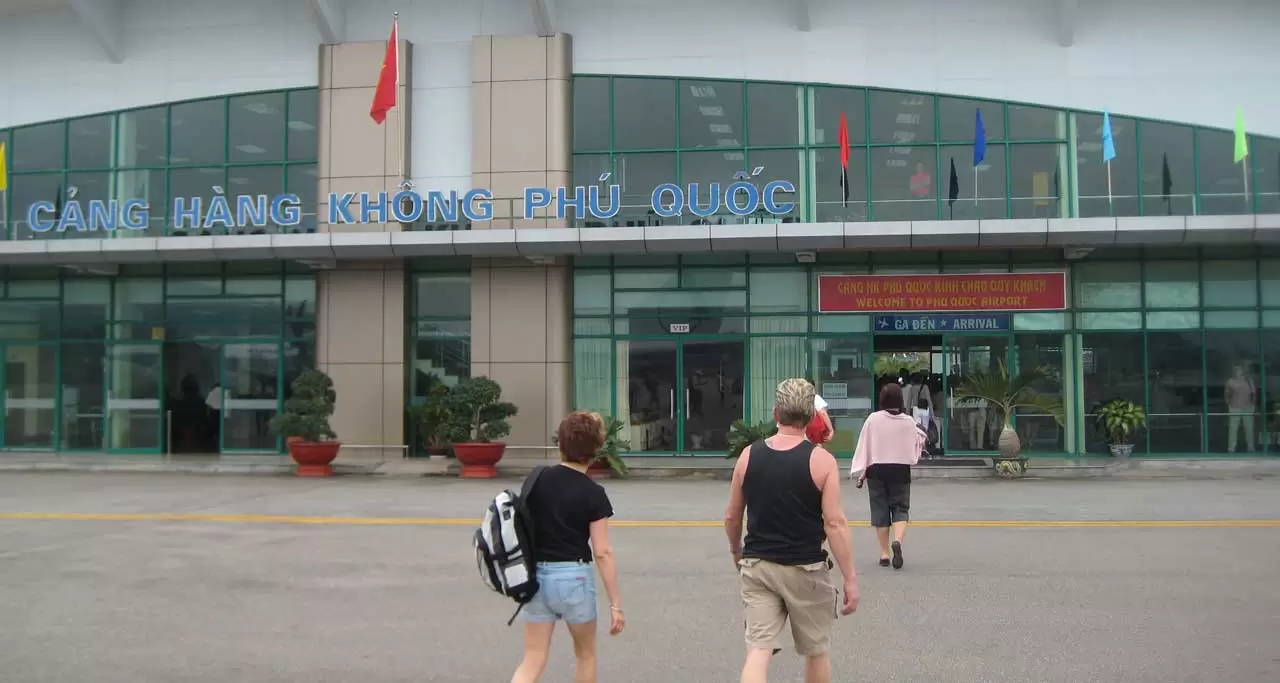 Phu Quoc Island attracts not only domestic visitors but also international guests by its tropical beaches, romantic sunsets, evergreen forests and serene atmosphere. Additionally, convenient 30-days visa exemption for all nationalities is a huge plus for foreigners looking for a perfect beach getaway. To get there, you can book a flight directly to Phu Quoc International Airport which is just 10km from the center of Duong Dong town. With 10 minutes ride by taxi, you can enjoy a comfortable stay at beautiful seaside resorts.
2.6. Cat Bi International Airport, Hai Phong, Vietnam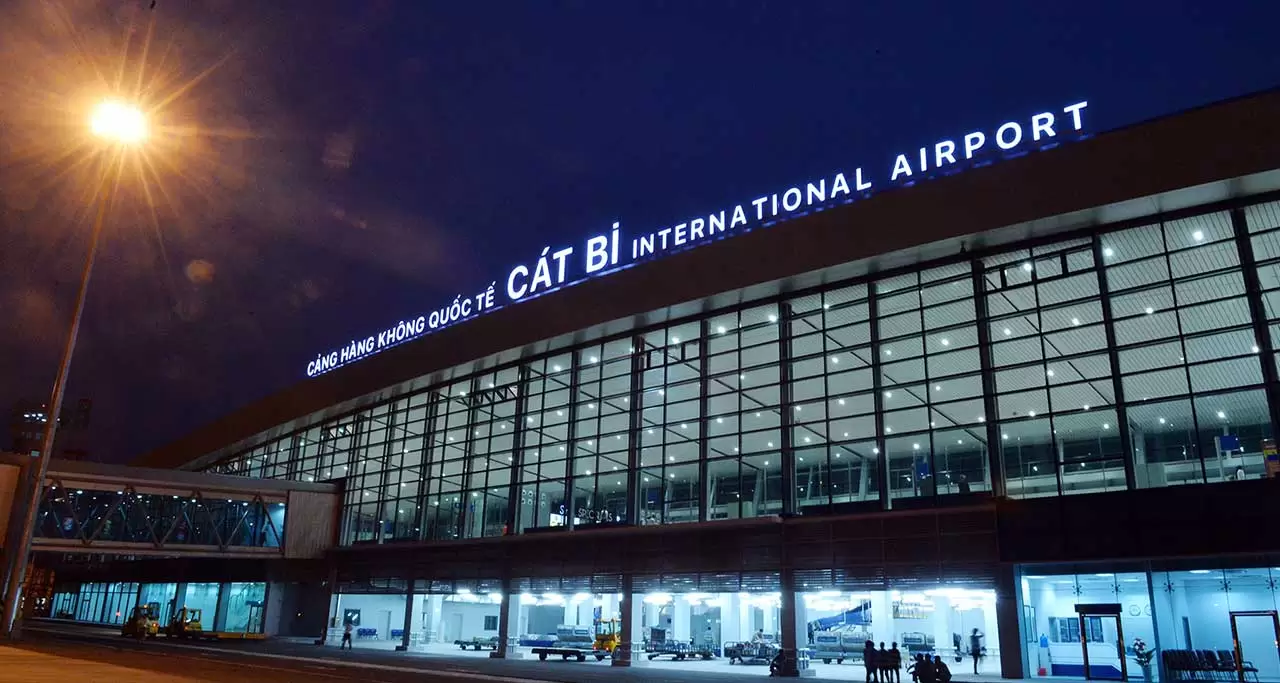 It is located in Hai An district, Hai Phong City.
It is only 100km from Hanoi or 41 km from Halong boat Jetty and or less than an hour drive on the newly built freeway. During the war Cat Bi Air Base was used by French Air Force, in 2015 our government upgraded the airport with a 3,050-meter second runway, a new terminal. The existing runway will also be upgraded. The first phase of the project was completed in May 2016, enabling this airport a capacity of 2 million passengers per year.
2.7. Van Don International Airport, Quang Ninh, Vietnam
International Airport or Ha Long Airport (Vietnamese: Sân bay quốc tế Vân Đồn) located in Van Don district, Quang Ninh Province. From Van Don international airport to Tuan Chau Cruise jetty is 65 km or about 1hour & 15-minute drive or 3 hours' drive to Hanoi.
On December 30, 2018, the airport is opened for operations, with a flight from Hanoi by Vietnam Airlines. Prime Minister was present on the flight and pressed the button to formally open the airport for airline operations.
Airport covers an area of 325 ha (800 acres) and contains one single runway with capacity of handling 2.5 million passengers and 10,000 cargo tons per year. The terminal has 4 baggage carousels, 8 security gates and 31 check-in counters.
This is the most convenient airport to get to Halong bay.
For more information of these international airports. Please contact Vietnam Travel Tour.